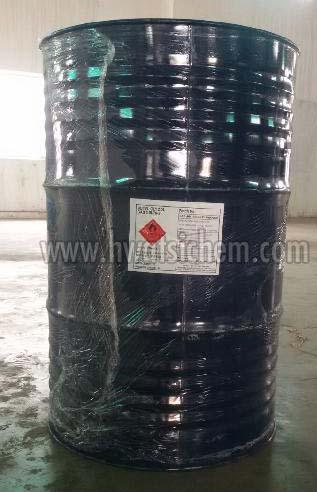 Butyl Acrylate is an acrylate ester or acrylate monomer derived by the formal condensation of the hydroxy group of butane-1-ol with the carboxy group of acrylic acid. The compound is a reasonably volatile and clear liquid that is completely soluble in ethers, alcohols, and almost all organic solvents. It is slightly soluble in water and somewhat less dense than water and therefore forms surface slick on water. This chemical is a flammable liquid with a flashpoint around 40 degrees Celsius and density around 7.5 lb. / gal. It has a unique fruity, pungent odor. It is readily polymerized with monomer molecules to create polymer chains and is easily miscible with other organic solvents.
How is Butyl Acrylate formulated?
Butyl acrylate can be formulated by reacting n-butanol with acrylic acid in the presence of an acid catalyst in an elevated temperature zone. This reaction produces butyl acrylate, water, and other by-products. The product mixture is further purified in a distillation zone to produce a higher purity of butyl acrylate. The chemical can also be formulated in several reactions. Acetylene, 1-butyl alcohol, nickel carbonyl, carbon monoxide, and hydrochloric acid can react to produce butyl acrylate.
How Butyl Acrylate can be stored and distributed?
A chemical stockiest should have a bulk petrochemical storage facility to maintain this solvent. Storage should be normally in a cool, dry and well-ventilated facility away from oxidizing agents. Butyl acrylate should be kept out of the heat, direct sunlight, and open flames. The chemical should be stored in drummed containers such as iso tanks made of aluminum, stainless steel, or carbon steel.
The bulk butyl acrylate exporters should normally distribute this solvent in bulk vessels or tank trucks. For transportation purposes, the solvent is categorized as a flammable liquid with a fire hazard rating of 2.
Uses of Butyl Acrylate: Butyl acrylate is generally utilized in the production of copolymers and photopolymer for use in water-based industrial and architectural paints. This solvent can also be used in antioxidant agents, cleaning products, enamels, adhesives, textiles, caulks and paper finishes. The double bond reactivity of this product allows it to be used as a chemical intermediary. The primary end-user of this solvent in the market is water, leathers, plastics, paints, adhesives and textiles industries.
Things one should remember while using Butyl Acrylate:
The solvent is highly reactive and polymerizes easily when exposed to heat or peroxides and thus, commercial preparations may contain a polymerization inhibitor. Butyl Acrylate can react easily with strong acids and bases, halogens, amines, hydrogen compounds, and oxidizers. The chemical is designated a Class II Combustible Liquid and can be stabilized with hydroquinone ethyl ether or hydroquinone.
People can be exposed to butyl acrylate via breathing it in, swallowing it, skin absorption, or eye contact. Symptoms of butyl acrylate exposure include irritation of the eyes, skin, and upper respiratory tract, sensitization dermatitis, corneal necrosis, vomiting, nausea, diarrhea, abdominal pain, cough, pulmonary edema, sore throat, and difficulty in breathing. Thus, the solvent should be handled with care.
For purchasing butyl acrylate, you need to trust on a reliable butyl acrylate exporter that offers the solvent at an effective price and ensures the secure delivery of the product on a stipulated time frame and makes the product available with a customized packaging option.